Memory Care at Starling at San Jose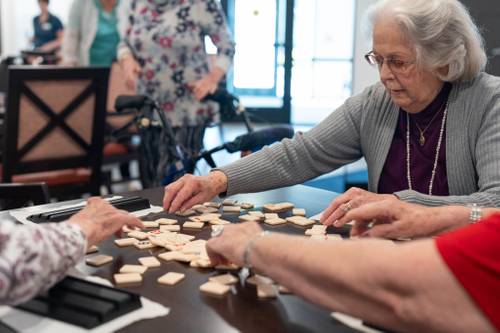 Starling at San Jose is an elegant sanctuary with unmatched comfort and vitality along the peaceful shores of Goodby's Creek in Jacksonville, Florida. This dynamic community offers Assisted Living and Memory Care, providing exceptional services and personalized care. With a warm and inspiring environment, it is the perfect place to pursue your passions and embrace a vibrant lifestyle. You'll enjoy a wide range of expansive amenities, making this luxurious community an ideal choice.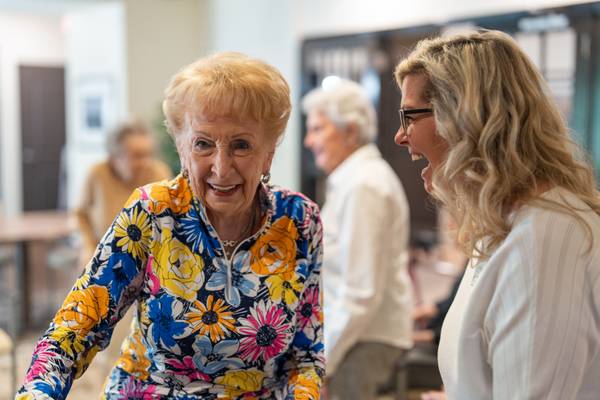 Memory Care in San Jose
The loss of memory and cognition associated with Alzheimer's and Dementia doesn't mean a loss of freedom and dignity. However, it can be challenging for everyone involved. With Starling's Memory Care, our staff ensures that no one has to go through this alone. If outside assistance is needed, memory care communities are the perfect environment for your loved ones. As a matter of fact, studies show that memory care communities improve the quality of life more than home care.
Click the button below to schedule your tour today!
In Our San Jose Memory Care facility, seniors enjoy a stimulating environment that encourages engagement and well-being in a comfortable and secure space. We know that treatments that are effective for one person may not be for another. So, we provide dynamic, customized programs for your loved ones that offer a sense of belonging. With these plans, our residents enjoy full-service dining experiences, engagement opportunities, and holistic wellness offerings.
Starling at San Jose offers a wide range of excellent dining options, no matter what you're craving. Our in-house gourmet chefs are constantly adapting, improving, and creating dishes that stimulate and captivate the senses.
At Starling, we understand the importance and benefits of an active social life for seniors. Various studies show seniors with a packed social schedule become more physically active, sleep better, and forge new friendships. That is why we provide different engagement activities and opportunities for our residents. Our busy activity calendar, curated by a dedicated team of engagement professionals, allows residents to pursue new interests and enjoy existing hobbies. Also, our wide variety of on-site amenities guarantees a new adventure is always at your fingertips.
Our residents' wellness is one of our top priorities. That is why Starling's wellness offerings include a full-service, professionally managed spa and salon, state-of-the-art fitness equipment, and convenient access to third-party home health and visiting medical providers. Our Jacksonville Memory Care community is staffed 24/7 by professionally trained nurses and caregivers and features an on-site therapy studio.
In addition to our dynamic benefits, our residents enjoy the comfort and security of a place they're proud to call home. Starling offers multiple floor plans, but our Memory Care residents enjoy sizable studio-style rooms with plenty of natural light. However, even outside their rooms, our residents will always be a part of a warm and welcoming environment. From our inviting grand lobbies to our comfortable library, there is a place for everyone.
Experience
Starling at San Jose features exceptional services, superior dining options, dynamic engagement opportunities, luxurious amenities, and robust wellness programs, making it the ideal destination to enhance your vibrant way of life in Jacksonville.
Other lifestyle options
We understand every individual is unique. Our services are individually tailored to maximize your comfort and vitality.
Starling's Assisted Living residences are designed to nurture your mind and body through personalized services, luxurious amenities, resort-style wellness programs, first-class dining experiences, and personalized care from our highly-trained and certified caregivers. Our transparent and predictable care plans are personalized to ensure our services are tailored to your individual needs.
more
Respite Care is a temporary stay program designed for seniors who may need additional assistance while recovering from a surgery or transitioning out of a skilled rehab facility before they're ready to go home safely. Respite Care is also beneficial for caregivers in need of a break for personal time and travel. Rest assured, our Respite Care guests will enjoy the same first-class services, engagement opportunities and amenities as our residents – all in the comfort of a safe and nurturing environment they're proud to call home.
more
We believe outstanding services don't have to come with a premium price tag.
We are here to help you find the best option for you and your family, so let us guide you through our unmatched offerings with thoughtful solutions catered to your individual needs.